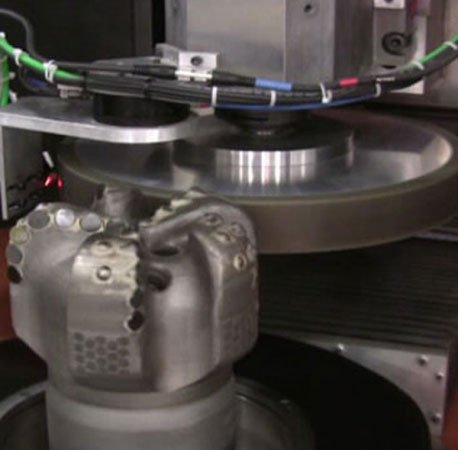 DIAMOND GRINDING WHEEL FOR PDC
High grinding efficiency
Small grinding force
High wear resistance
High accuracy workpiece
Low grinding temperature
Desciption
Polycrystalline diamond compact (PDC) is a superhard material composed of diamond powder and cemented carbide matrix under high pressure and high temperature. It has the advantages of high hardness, high wear resistance, high elasticity, etc. But it also puts forward high requirements for diamond grinding wheels.PDC cutter is widely used in drilling. Diamond wheels are used for cylindrical grinding in manufacturing and repair PDC bits. In the practical applications, choose resin bond or vitrified bond grinding wheels according to the detailed conditions. If the base of PDC bits contains iron-based elements, need to consider whether to apply hybrid abrasive (diamond and CBN) superhard grinding wheels.
Features and selection of bond:
Resin bond
Resin bond wheel has good self-sharpness, low price, and good surface finish. They are usually larger size grinding wheel.
In order to ensure the durability of the resin bond grinding wheel, the structure of the grinding wheel is compact, and there are no pores. Therefore, the grinding force is too large when grinding and then will cause a great impact on the spindle of the grinding machine.
1A1 Resin Diamond Wheel
1A1 wheels are used for cylindrical grinding in manufacturing and dressing PDC bits, and most of them are applied resin bond grinding wheels with diameter size above 350mm.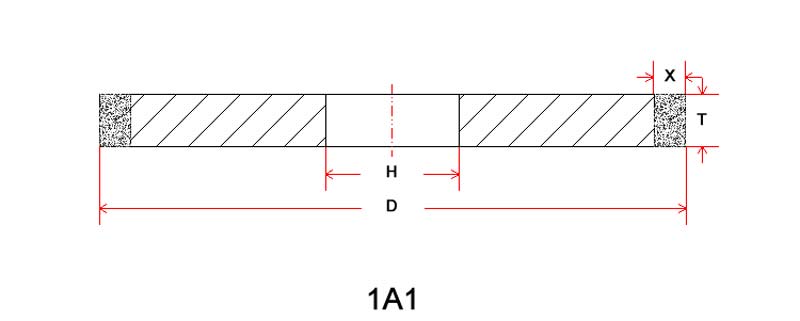 Common sizes:
φ457.2*50.8*304.8*10mm
φ600*76*304.8*10mm
φ609.6*76*304.8*16mm
φ750*76*304.8*10mm
φ900*76*304.8*10mm
Centerless resin diamond wheel:
Resin bond centerless grinding wheel is applied in the finishing process of PDC cutter if high surface finish is required or consider the economic cost. The ground workpiece can achieve a high surface finish.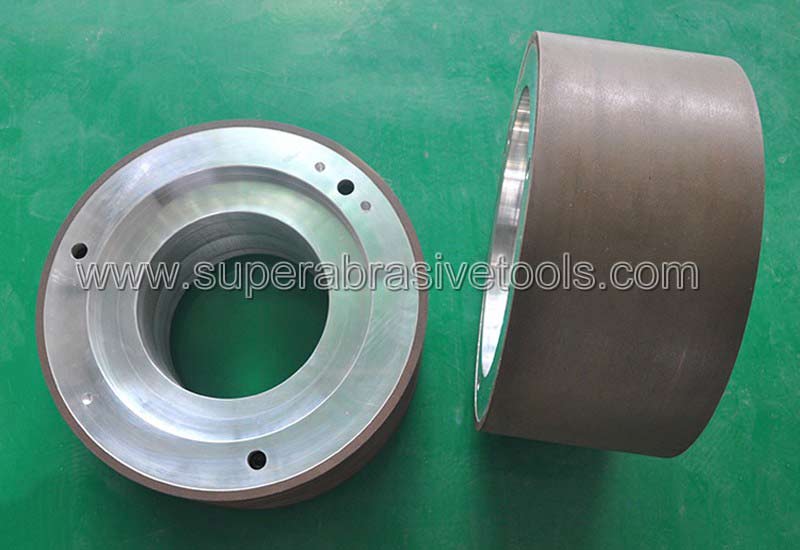 Vitrified bond
Good self-sharpening with pores and little damage to the spindle of the grinding machine
The grinding wheel is sharp and the grinding efficiency is high.
When grinding, the cutter is not back-off and the size of PDC is a good consistency.
Vitrified Wheel Specification
Grinding PDC cutter tools are generally divided into two processes: rough grinding and finish grinding.
1A1 vitrified bond grinding wheel is suitable for cylindrical rough machining of polycrystalline diamond compacts (PDC).
The 1A1 wheel is also widely used in the drilling site for dressing by the hand-held grinder. It can dress the outer diameter of PDC bits and remove welding debris around the bits. It has high efficiency and saves grinding time and labor' physical strength. Common outer diameter is 200mm and 250mm.
Type
D(mm)
T(mm)
H(mm)
X(mm)
     1A1
    200
    50
     75
    10
     1A1
250
    50
     75
10
     1A1
    300
    50
    127
    10
     1A1
    350
    50
    127
    10
     1A1
    400
    50
    203
    10
     1A1
    450
    50
    228.6
    10
     1A1
    500
    50
    305
    10
      According to customers' requirements
The centerless vitrified diamond grinding wheel is suitable for finish grinding polycrystalline diamond compacts(PDC).
Type
D(mm)
T(mm)
H(mm)
X(mm)
1A1, 6A1, 9A1
   200
    50
    75
     10
1A1, 6A1, 9A1
   250
   100
    75
     10
1A1, 6A1, 9A1
   300
100,150
    127
     10
1A1, 6A1, 9A1
   350
  125,150
    127
     10
1A1, 6A1, 9A1
   400
  150,300
    203
     10
1A1, 6A1, 9A1
   450
150, 200, 300
    228.6
     10
1A1, 6A1, 9A1
   500
  150, 200
    305
     10
    According to customers' requirements
re
Video